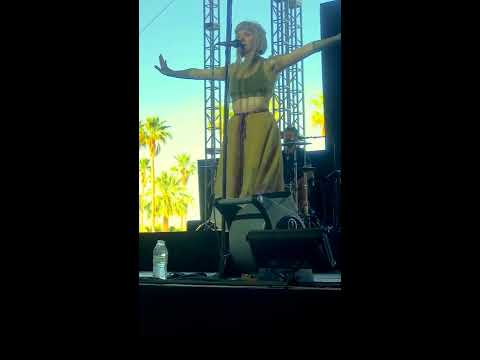 Idolator
AURORA casts a spell:
Norwegian pop pixie AURORA impressed everyone with her amazingly-titled debut LP, All My Demons Greeting Me As A Friend, and developed a reputation as a consummate live performer with a string of North American shows over the last two years. The 21-year-old got to showcase both in the Gobi Tent, transfixing the crowd with ethereal gems like "Warrior," "I Went Too Far" and "Running With The Wolves." She even previewed a new single called "Queendom," which is an anthem in the truest sense of the word.
NME
The Norwegian singer-songwriter debuted her new single 'Queendom' from her forthcoming second album on the Coachella stage. Equal parts Bjork and Florence, her afternoon set was a glammy, gorgeous tour de force.