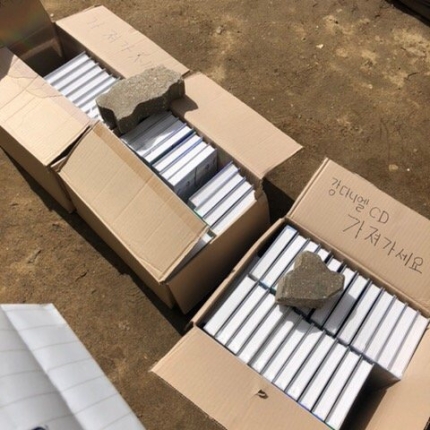 K-pop CD sales soar but so does their environmental impact
"K-pop albums these days are elaborately designed to have collectible value, which makes them a mix of plastic, paper and fabric," said Lee Jai-young, a professor of environmental engineering at the University of Seoul.
"These albums are practically impossible to recycle. It's not a problem how many CDs an individual buys, as long as they keep them, but it is when a mass amount of CDs are discarded and turns into unrecyclable waste. From an environmental point of view , the growing CD market and accompanying excessive purchases are not good phenomena at all."
"CD sales have been steadily on the decline globally, but K-pop CD sales continue to rise," said pop music critic Jung Min-jae, who also serves as a member of the annual Korean Music Awards' selection committee. "Although the K-pop industry's growth is something to celebrate, CD sales can't be viewed only in a positive light. Even if we take exports into account, the current amount of sales is not proportional to our population or market size. Only Without bulk-buying, even the most popular K-pop albums would normally sell around 100,000 copies realistically considering the market size.
The option to not receive physical copies is offered by many artists and record stores in the early weeks after a release, during which fan meet and greets are held frequently in order to boost CD sales. Sales during the first week, dubbed initial sales or the term chodong,which originally comes from the Japanese idol scene, are considered important measures of an artist's popularity and loyalty of their fans. As a result, fandoms often display competitiveness to set a new sales record for their favorite artists.
"We tend to blame fans for bulk-buying, but I don't think fans should be the target of criticism," critic Jung said. "As long as the fundamental system encourages them to buy mass amounts, we can't blame fans for wanting to meet the idol they love so much or trying to get a photo card of a certain favorite member. From the fans' perspective, they have no other choice."
"Taking little steps into a more environmentally responsible CD market is a meaningful effort," Prof. Lee said, "even if it starts with replacing small components. Hopefully in the future we will further find eco-friendlier materials that can replace conventional ones. But ultimately, reducing the amount of albums being thrown away is just as important as the CD being more biodegradable."
"Because the current system has been established as the standard for years, it will be difficult for any one agency to announce drastic changes," Jung said. "Agencies must come together for a collective resolution to stop or at least reduce the randomization of CD versions and component items. The industry needs to start separating CDs from fan meets and photo cards. Photo cards should be sold like normal merchandise instead of being so Selling digital entries for fan meets separately may feel strange at first, but it's better than all those CDs going to waste.
"We will most likely sell even more K-pop CDs next year, and under the current system, it also means more albums are wasted. Of course, the number of copies sold will go down without randomization tactics, but people will still purchase fan It's more about agencies, as well as fandoms, letting go of the obsession with numbers like 1 million copies sold or reaching No. 1 on album sales charts. The need to feel responsibility for the environment and change is a greater cause.